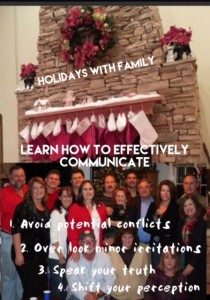 Family gatherings can be times of laughter and connection. But even if you've been living on your own for 20 years, walking in the door of mom's house has the potential to turn the clock back. In the time it takes to set down your casserole, you are suddenly 12 years old, fearful of slamming the door too hard or gearing up to defend your career choice. It's easy to slip back into old patterns and behaviors conditioned by the messages we were given as children. By making conscious choices in your thoughts and behaviors, it is possible to transform your family dynamic. Here are four ways to prevent or diffuse potential conflict at this year's family holiday gathering.
Head conflict off at the "past" – One of the simplest ways to avoid potential family conflict is to steer clear of controversial topics. My family is split down the center when it comes to politics. For years, our family gatherings quickly turned into all out wars over foreign and domestic policies and who was sitting in the White House. We finally made a pact that we would "agree to disagree" and the topic of anything political is now banned from family gatherings. Make a list of potential 'hot topics' that have caused issues in the past and ask family members to adhere to avoiding them.
Don't Sweat the Small Stuff – In a healthy family dynamic, people are willing to overlook minor irritations and frustrations that are inevitable when people are close. Each of us has quirks, habits, and mannerisms that can be irritating — interrupting, talking too loud, or showing up late. Effective family communicators choose to let go of inconsequential irritations and look rather to the heart of the person. We are not our quirks. At our core we are Divine beings here to express love and connection. If we focus only on Aunt Mary snapping her gum, we miss the opportunity to connect with her heart to heart. Focus on the good qualities of each person and you will soon see more of their positive traits. What you focus on expands.
The Truth for Me Is – Speaking your truth can be difficult but has the power to dramatically redefine your relationships. Every family has that one 'situation' from twenty years ago that still has people taking sides decades later. The reality is, truth is subjective. How we remember events is always filtered through the mirror of our perception which is a reflection of our core beliefs. For many of us, this includes dysfunctional programming we received as children. If an old wound resurfaces at your holiday gathering and you feel yourself constricting and reacting as you did before, open your heart space and say with love and compassion, "The truth for me is…" without judgment. Stay away from the blame game of "You made me feel" or "You did X,Y,Z". Take responsibility for your feelings. No one can make you feel anything without your permission. Remember, this is YOUR truth, not THE truth. This is not about "being right". Once you speak your truth, allow the other person to do the same. Really listen with an open heart, and acknowledge that their truth is every bit as valid as yours. People want to be heard and know they matter. Many times, we don't speak our truth at all. We pretend all is well, while subconsciously holding onto past hurts. Then something triggers us and we explode in a tirade, saying damaging and hurtful things. By using this method and authentically communicating your truth with love and compassion, you not only honor yourself and the other person but the relationship as well. This sets the stage for true healing to begin.
Perception = Reality – The most powerful tool you have in your toolbox is the ability to shift your perception. In every moment, you decide what filter you are viewing events through, either past or present. Your perception creates your reality. Let me repeat that. What you choose to perceive is creating your reality moment by moment. And your reality can be vastly different from the reality your family member is perceiving. Who is right? Both of you! We've talked about our script and the characters we hire to play out the parts in the "life story" we are producing, but how often are you holding the pen? As innocent children, our parents began writing our story. As we grew, we began to co-author it with those who influenced our lives. But do you really want Uncle David writing YOUR script? Once you fully recognize that you control how your story plays out, you can take back the script and the pen and create your reality exactly as you would like to see it. This includes how you remember the past. Suddenly, Uncle David has no power over you because you see him as an innocent little boy, trying to make himself feel worthy and loved. You've re-written his character, and now, that 20-year argument holds no power and seems inconsequential. Because it is. Once you leverage this power to create, imagine the possibilities it has in creating the reality of your dreams! The pen is in your hands. What are you going to write?
I hope these tools are useful this holiday season. Whether you simply avoid talking politics or dig into the trenches of your family dynamic and decide to re-write your story, know that you and Uncle David and Aunt Mary were all innocent children. See your family through the lens of that innocence, and I promise you that your perception will begin to shift and you will find yourself appreciating the uniqueness and love your family brings to the table.