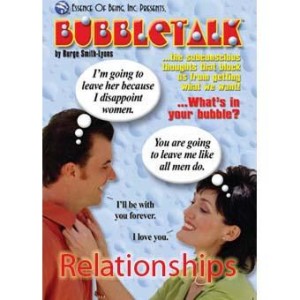 $187.00
Product Description
"BubbleTalk For Relationships…the subconscious thoughts that block us from getting what we want.".

This is open to the public, so send this to anyone who may be curious and asks the question, "Why does this keep happening to me?" or " How can I be happy and have a relationship?"
You may consciously choose to have a different reality, but there is something blocking you from having it. You may be saying one thing, but believing something entirely different. This Teleseminar will target very specific issues and patterns in your relationships. It will offer solutions on how to change what is in your "bubble" (unconscious thoughts in your head) that block you from getting what you want. Through exercise, processes, and meditations you will be able to identify your unconscious dialogues and patterns and see the reasons why you are stuck and can't seem to get what you want.
We will discuss…
1. Patterns we develop with each relationship
2. Our beliefs at relationships
3. Where they come from
4. How to change your current reality to what you really want
5. Learn better communication skills.
The "BubbleTalk For Relationship" Series continue every Monday for 4 weeks to keep you on track with creating harmonious relationships!