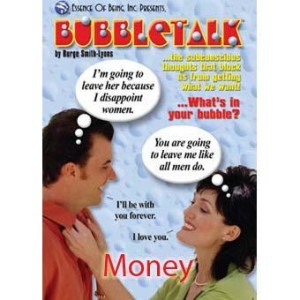 $187.00
Product Description
BubbleTalk for Money
Have you ever wished for something better in your life and it hasn't happened yet? Do you ever wonder why? This Teleseminar – Webinar  Series "BubbleTalk…the subconscious thoughts that keep us from getting what we want" asks the new question, "What's in your bubble?"
"BubbleTalk For Money" targets very specific issues and patterns in the field of finances, and life in general. It offers solutions on how to change what is in your bubble (unconscious thoughts in your head) through exercises, processes, and meditations. You can identify your unconscious dialogues and patterns and see the reasons why you are stuck or confused. Use the tools to improve your life & money!
 Here is what we will be discussing for those 4 weeks…
#1 – Exploring definitions of wealth, cash, money,abundance, assets, prosperity and give distinctions with each of those words. Definition of Wealth vs Net-worth. Get clarity of what you want and desire in order to attract it.  In other words, you will find out where you are in your ability to manifest your dreams and how you link your emotions to money.
#2 – Identifying your "Bubbletalk" around money and discover your beliefs with a financial self analysis.  We will correlate beliefs around having money and being happy at the same time. We will explore and make distinctions between your thoughts and beliefs and your family's thoughts and beliefs or "BubbleTalk."
#3 – Then once we identify what those are, the third session is all about shifting that "BubbleTalk" that no longer serves you. In other words blowing away the bubbles with various techniques. Shifting them to a different core bubble. We will be very specific with your core bubble around money, I will give you the positive aspects of your shadow side or negative core bubble.
#4 – Actions steps and strategies and tools to help you keep releasing fears and increase your committed action. Such as playing the credit game, magic tips with money, developing prosperity consciousness.  How to use goals to attract what you want. I will give you worksheets to use about goal setting and attracting. How to create unexpected income. I will give you specific tools you can use on your own to help you stay on track.