Workshops | CDs | DVDs | Webinars/Teleseminars | Cards/T-Shirts | Personality Profiles | Private Sessions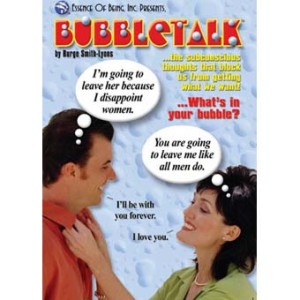 $39.97  Add to Cart
Have you ever done affirmations and wished for something better in your life and it hasn't happened yet.
Product Description
What's in your bubble? Imagine cartoon characters with your thought bubbles coming out of your heads when you are thinking something. The series of books will target very specific scenarios and patterns in the fields of finances, relationships, communications, purpose, and life in general. It will offer solutions on how to change what is in your bubble (unconscious thoughts in your head) that block you from getting what you want. This is a new twist on an age old premise. Through insightful stories, men and women will be able to identify their unconscious dialogues and reasons why they are stuck and can't seem to get what they want. Millions of people are hurting and looking for advice on how to better themselves.
Think Chicken Soup for the Soul meets The Secret. Bubble Talk gives the reasons why the Law of Attraction works and gives examples of what to do to improve your lives. The examples of real people will inspire millions to do the same and give them a road map to follow. For things to change, 1st your beliefs must change. The series will start with at least 18 books.