Silvia Pancaro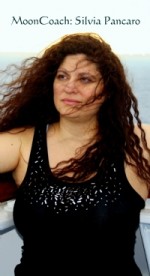 My name is Silvia Pancaro & I use real life to initiate OneS elf into the Inner Realm of Mystery with the goal of discovering the Infinite Light Within. Just like the Moon has many faces-phases, so does Silvia.
www.MoonCoach.com,
www.FlyingMermaid.net,
www.ThePriestEss.com,
www.CosmicChild.com,
www.ElementsOfAlchemy.com,
www.CelestialArchetypes.com
 Business
Supercharge Your Goals & Dreams With Nature's Power! My name is Silvia Pancaro & I use real life to initiate One Self into the Inner Realm of Mystery with the goal of discovering the Infinite Light Within. Using Archetypal Astrology, Natural Cycles & Cosmic Timing, I will guide you in supercharging your goals in a practical and powerful manner!
Special Offers for
EssenceOfBeing.com Members
1/2 hour Lunar Astrology session for $50 for EOB grads. Phone session or transcribed interpretation. This special reading will help you understand your basic needs from an humanistic astrological perspective so that you may better focus on creating the life of your dreams, without the usual self-sabotage. Knowing what your Lunar 'needs' are greatly empowers you to work on developing more joyful creative self-expression as revealed by your Solar Essence!
View Larger Map
Email
Silvia@MoonCoach.com